So its been ages since I last posted, mainly as I decided to have a few years out to focus on other things. Zazzle of course is continuing to make me money despite zero effort on my part for this full year. Maybe I'll go back to working hard again next year? As of the moment I am working on other things.
This year I become a Bronze Pro-seller after making over $1000 profit. Which is a huge achievement for me!
Anyway, since we are steadily approaching the end of 2013 I thought I'd share my 3 best sellers of the year.
In first place we have my Shark Birthday Party invitation! (I'm guessing this one is popular with little boys.)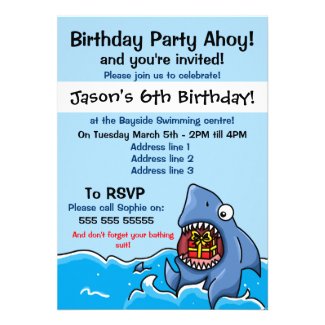 Shark Birthday Party Invitation
by
MuffinPuffART
Browse
Great white shark Invitations
In second place, my Pig flying on clouds design on a Iphone case.
Flying pig dances on clouds customisable Iphone 4
by
TheForestofCute
Browse other
iphone cases
And finally in third place, a weird Halloween Dinner party invitation.